Small Creatures Can Solve Big Problems – Good to Be Small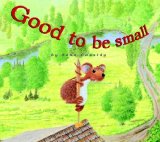 Good to Be Small – Written and illustrated by Sean Cassidy
Picture book published by Fitzhenry and Whiteside Limited

This delightfully illustrated picture book reminds us that even very small creatures can help to solve big problems. A young lamb is missing from the barnyard and her mama is frantic. A small and very determined mouse offers to help find Lamb. She travels far and wide while using her ingenuity and size to reunite a very grateful Mama Sheep with her lamb.
This is a favourite read aloud in my Getting Ready to Read program. Young children enjoy carefully examining the illustrations to help find Lamb. They cheer for Mouse as she enlists the help of other creatures in her quest. Very well suited to a farm theme or an examination of social responsibility.
Suitable for children aged three and up.
Good to be Small at Amazon.com
Good to Be Small at Amazon.ca
Note, visit Sean Cassidy's website for "One Point Perspective" drawing lessons.
Did you know Storytime Standouts offers more than two hundred early childhood literacy downloads? You may be interested in our farm downloads to go along with Good to Be Small.

Five Little Farmers

Use Five Little Farmers as a fingerplay or a felt board story in preschool, homeschool or kindergarten.

Writing paper for kids - Farm

Farm theme interlined paper for beginning writers.

Farm Picture Dictionary

Free printable farm picture dictionary for readers and writers in kindergarten and grade one.