Harvesting A Bumper Crop Picture Book: Farm by Elisha Cooper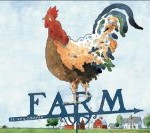 I recently responded to an inquiry from a teacher. She was looking for a fictional look at a farm. She needed the farm to be modern and she needed a book that would appeal to children in the primary grades. I suggested farming picture book Farm
by Elisha Cooper
Farm is a detailed tribute to farming and the people who do it. Best-suited to children six and up, the descriptions include interesting details and description, "Everything grows in May. The corn shoots up, high as the girl's knees. The rows look like wet hair just after it's combed. The farmer combs the rows with the tractor, spraying fertilizer and pesticide. Then the rows grow together and the fields become an ocean of green. The farms are like islands on the ocean. The tractors are like boats." From tilling the soil to harvesting the corn, we move through spring, summer, and fall and observe how the crops, jobs, equipment, weather, and chores change.
Additional materials in this farming picture book include a glossary of farm terminology
Publishers Weekly Q and A with Elisha Cooper
Farm at Amazon,com
Farm at Amazon.ca
Did you know Storytime Standouts offers more than two hundred early childhood literacy downloads? You may be interested in some of our free printables to go along with this farming picture book.

Five Little Farmers

Use Five Little Farmers as a fingerplay or a felt board story in preschool, homeschool or kindergarten.

Writing paper for kids - Farm

Farm theme interlined paper for beginning writers.

Farm Picture Dictionary

Free printable farm picture dictionary for readers and writers in kindergarten and grade one.

Farm Animal Word Match

Simple farm-theme matching activity for beginning readers.