Check Out this Great Non-Electronic Toy for Teens and Adults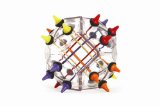 When Christmas shopping for my thirteen year old, I wanted a non electronic toy and I stumbled upon Brain String – Advanced. This non electronic, 3D puzzle was a "hit" in our home throughout the Christmas holidays as it was picked up by various family members. New puzzles were created and solved over and over again.
The puzzle features color-coded elastic strings stretched within a transparent, symmetrical dome. The challenge is to work, by slightly stretching the strings, from outside the dome to create a knot inside it and then to solve the puzzle you created by manipulating the strings until you untangle the knot. This is done by moving the strings from surface to surface and hole to hole. The strings have color-coded buttons that match the string colors. The buttons and strings move from hole to hole and surface to surface as you attempt to untangle your knot. Ideally, a "solved puzzle" will have like colors on each surface of the dome and no entangled strings.
A highly recommended non-electronic toy for teens and adults who enjoy a mental challenge, Brain String Original is also available.
Brain String (Advanced) at Amazon.com
Brain String Teaser (Original) at Amazon.com
Brain String (Advanced) at Amazon.ca