Rhyming Words – Supporting Phonemic Awareness Part 1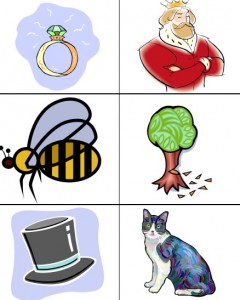 We offer two sets of free printable rhyming words on this website.
Keep in mind that sound matching and learning about rhyming words will help your child to gain phonemic awareness and phonemic awareness is a key to learning to read. If you are unfamiliar with the term phonemic awareness and/or if you would like to learn more about it. we encourage you to follow the link to our page about phonemic awareness.
Here are some ways you could use these free rhyming word printables…
1. Print off one set of rhyming word pictures and then cut the pictures apart. Make sure your child knows what each picture is depicting. Ask your child to match the rhymes together.
2. Use one set of rhyming words to play a rhyming word memory game with your child. Turn all the pictures upside down and take turns trying to patch the pairs.
3. Make a file folder memory matching game – glue one half of the rhyming pictures to the inside of the file folder and leave the remaining pictures (loose) to be matched. You can make it a self correcting activity by putting a different symbol beside each of the pictures you glued to the folder and using the symbols the back of the matching pictures.
Our early learning printables, including our rhyming word printables are in PDF format, if you don't already use Adobe Reader, you will need to use it to access the downloads.


Some of our early learning printables are available to Storytime Standouts members only. To become a member of the website, please click on the "Members" tab and register as a user.
You will find our selection of free printable alphabets here and all of our early learning printables here.

Match the Rhyming Words

24 Pictures of rhyming words (king, ring, bee, tree, hat, cat, mouse, house, bed, red, clock, lock, tire, fire, bear, chair, train, chain, skate, gate, fox, box, frog, dog)

Match the Rhyming Words - Set 2

24 pictures of rhyming words (whale, sail, hook, book, wig, pig, stamp, lamp, wet, jet, five, hive, hair, stair, fish, dish, flower, tower, clip, hip, moose, goose, ghost, toast)
If you appreciate our rhyming word printables, please support this site by visiting and purchasing from Amazon.com or Amazon.ca.