Rhyming Word Printables Just Added
Our pictures of rhyming words have been very, very popular with visitors to Storytime Standouts so we are adding a second set.
Use these free PDF downloads to create a rhyming word matching activity for young children. Print the PDFs, cut the pictures apart and have your child match the rhyming words. For a trickier challenge, use the pictures to play a memory-matching game.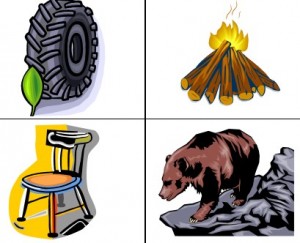 Our free early learning printables, including our rhyming word printables are in PDF format, if you don't already have Adobe Reader, you will need to use it to access the rhyming word printables.


Some of our early learning printables are available to Storytime Standouts members only. To become a member of the website, please click on the "Members" tab and register as a user.

Match the Rhyming Words

24 Pictures of rhyming words (king, ring, bee, tree, hat, cat, mouse, house, bed, red, clock, lock, tire, fire, bear, chair, train, chain, skate, gate, fox, box, frog, dog)

Match the Rhyming Words - Set 2

24 pictures of rhyming words (whale, sail, hook, book, wig, pig, stamp, lamp, wet, jet, five, hive, hair, stair, fish, dish, flower, tower, clip, hip, moose, goose, ghost, toast)
You'll find hundreds of Storytime Standouts early learning printables here.
For more ways to help your child learn about rhyming and to help develop your child's phonemic awareness, follow this link to visit our Phonemic Awareness page.
As always, we hope that if you enjoy our large selection of free early learning downloads, you will support this site by linking to Amazon through Storytime Standouts.
Rhyming Games at Amazon.com
Rhyming Games at Amazon.ca