Two Shoes, Blue Shoes, New Shoes – These Shoes Really Dance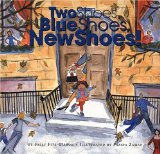 Two Shoes, Blue Shoes, New Shoes! -Written by Sally Fitz-Gibbon, Illustrated by Farida Zaman
Picture book published by Fitzhenry and Whiteside
Wearing new blue shoes to school, our happy heroine bounces through city streets with great enthusiasm. Delightful watercolor illustrations exude energy and compliment the simple, rhyming text beautifully.
Swinging from a rope, shoes,
With an antelope, shoes!
Riding on a whale shoes,
See him splash his tail, shoes!
Best for children aged three to six.
Two Shoes, Blue Shoes, New Shoes at Amazon.com
Two Shoes, Blue Shoes, New Shoes! at Amazon.ca