Tina and the Penguin is Great Fun for Storytime or Home Reading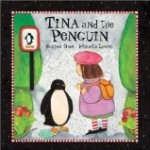 Tina and the Penguin – Written by Heather Dyer and illustrated by Mireille Levert
Picture book published by Kids Can Press
A thoroughly delightful picture book about a young girl and her very special penguin friend!
When Tina's class from school visits the zoo, she finds herself helping a homesick penguin to escape an enclosure. Tina disguises her new feathered friend and they board the school bus together. When she takes the penguin home, Tina discovers that caring for her rather unusual houseguest is no simple matter. Mom wonders about the fishy smell and the feathers floating through the air in Tina's bedroom and, wanting to ensure her new friend's comfort, Tina discovers that sharing an ice water bath and sleeping with the window open is tough to take.
Distinctive, eye-catching and colourful illustrations make Tina and the Penguin
a great book to share with a group.
Recommended for children aged 5 to 8, Tina and the Penguin would be a nice addition to a classroom zoo or penguin theme. The story also lends itself to making predictions.
Tina and the Penguin at Amazon.com
Tina and the Penguin at Amazon.ca