Classic Picture Book: Pete the Cat I Love My White Shoes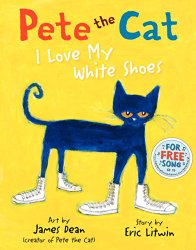 Pete the Cat I Love My White Shoes created and illustrated by James Dean, story by Eric Litwin
Picture book published by Harper Collins Children's Books
Light, breezy, rhythmic and upbeat, Pete the Cat I Love My White Shoes shares a message of resilience that will appeal to children and adults. Pete begins his day with bright, white new shoes. When he steps onto a pile of strawberries, his shoes turn red and, when he encounters blueberries, his shoes turn blue. Regardless of what poor Pete has to walk through, he maintains his happy outlook. Very popular with young children who enjoy learning and singing about colors, Pete also has a message for older children and adults:
"When one door of happiness closes, another opens; but often we look so long at the closed door that we do not see the one which has been opened for us." Helen Keller
An excellent choice for young readers who will benefit from the repetitive and predictable text, Pete's coolness is oh so groovy!
Harper Collins Publishers' Pete the Cat downloads (including songs)
I Can Read Pete the Cat (free downloads)
School Library Journal's Top 100 Picture Books
2013 Morning Calm Award Medal, International Schools of South Korea
2013 Best Picture Book, Colorado Children's Book Award
2013 Best Picture Book, North Carolina Children's Book Award
2012 Center for the Book at the New Hampshire State Library – Ladybug Picture Book Award
2011 ReadKiddoRead award for Best Illustrated Books
2011 Missouri Building Block Picture Book Award
2010 25 Books All Young Georgians Should Read
Pete the Cat: I Love My White Shoes at Amazon.com
Pete The Cat: I Love My White Shoes at Amazon.ca
Pete the Cat I Love My White Shoes on YouTube
Pete the Cat I Love My White Shoes Pinterest Board
Follow Storytime Standouts's board Pete the Cat I Love My White Shoes created and illustrated by James Dean, story by Eric Litwin on Pinterest.