We Suggest Graphic Novels for Reluctant Readers

Graphic novels are similar to comic books in that they rely heavily on illustrations to tell much of the story. Graphic novels often appeal to reluctant readers but they are equally enjoyed by those who are fluent.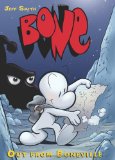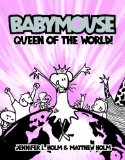 Bone and Babymouse are both currently very popular graphic novel series for children. Babymouse is clearly intended primarily for girls and is good fun.
Babymouse #1: Queen of the World! at Amazon.com
Babymouse #1: Queen of the World! at Amazon.ca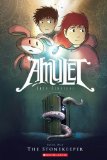 Amulet by Kazu Kibuishi is a new series. My ten year old son and I each read Book One, The Stonekeeper. I read the book first and then he picked it up and devoured it shortly thereafter. The story begins with a dramatic and tragic car accident that apparently kills Emily and Navin's father. Two years later, depleted finances force the family to move into a home that has been empty ever since Great Grandpa mysteriously disappeared. It is not long before the children find themselves on a desperate quest to save their mother from a tentacled creature she encounters in the basement.
My son and I both enjoyed the book – he more than I. The author/illustrator does a terrific job of setting up further adventures. He leaves many questions unanswered and will undoubtedly draw readers to subsequent books in the series.
I feel I would be remiss if I did not comment on the death scene midway through the book. Neither of my sons (aged 10 and 12) found the illustrations of a dying and then dead man remarkable. I'm not sure what that says about their de-sensitization thanks to movies and video games. Anyhow, I was surprised to see the man, eyes wide open, followed by another frame wherein a character closed his eyes and a third frame where his dead body was covered with a sheet (pages 110 – 112 in my copy). My boys were very matter of fact about the illustrations. Take a look for yourself and post your thoughts.
The Stonekeeper (Amulet, Book 1) at Amazon.com
The Stonekeeper (Amulet, Book 1) at Amazon.ca
Bone at Amazon.com
Bone at Amazon.ca
You may be interested in our page about reluctant readers.