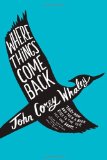 Where Things Come Back written by John Corey Whalley
Young Adult Fiction published by Atheneum Books for Young Readers, a division of Simon and Schuster
Before Cullen Witter's final year of high school, everything he thinks and understands about his small and painfully dull hometown of Lilly Arkansas vanishes. His cousin overdoses, his town becomes obsessed with the reappearance of an extinct woodpecker, and, most disturbingly of all, his gifted younger brother disappears, leaving Cullen to hold his family together as he muddles his way into adulthood. On the other side of the world, a young missionary in Africa searches for meaning wherever he can find it. When their two stories collide, they, and the people whose lives they've touched will be changed forever.
There are a lot of coming of age stories out there. This is probably why I don't read them that often. After reading the backs of a bunch of them at the library or bookstore, they all start to blur together, and it is hard for one to stand out. Where Things Come Back does stand out, becoming one of the best books I've read this Winter Break.
For me, my favorite thing about this book was its characters. The characters were interesting, understandable, and relatable. I could feel their emotions clearly throughout the book, as they searched and lost and found. Almost every character had some sort of backstory or development and they were the driving force behind the plot, their stories weaving together and connecting in ways I never saw coming. As the author gradually brought all their stories together, he creates a well constructed and creative narrative, leading up to an unexpected, heartbreaking, yet hopeful finale. The last few chapters were my favorite part of the story, as I got to watch all the threads of this story finally come together as one.
Where Things Come Back is my first read of 2013, and it has set the bar very high for the rest of the books I read this year. Thought-provoking and original this book has become one of my favorites, and I would recommend it to anyone, no matter what they prefer to read.
Where Things Come Back at Amazon.com
Where Things Come Back at Amazon.ca
Where Things Come Back won the William C. Morris YA Debut Award and the Michael L. Printz Award for Excellence in Young Adult Literature. As well, it was named an Indigo Books and Music Best Teen Books of 2011 Pick, a New Voices for Teens Selection -ABC Children's Group at ABA and Best Fiction for Young Adults 2012 Nominee -American Library Association.