One Two That's My Shoe by Alison Murray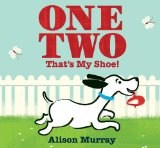 One Two That's My Shoe written and illustrated by Alison Murray
Counting Picture Book published by Disney Hyperion Books
A delightful, cheery picture book, One Two That's My Shoe by Alison Murray will have tremendous appeal for toddlers, preschoolers and older children. Beautiful illustrations feature a lovely palette and direct readers to notice numbers and what is to be counted in each two-page spread. Very well-suited to a classroom or a library read aloud session, the illustrations are bold and large enough for a group to enjoy.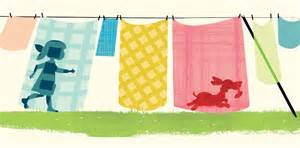 Georgie Dog picks up one of Grace's shoes and within minutes a chase ensues. Georgie jumps over three teddy bears and races past four wooden blocks. Soon after, he rushes outside and into the garden. Grace chases after him. This is a playful pup with a winning personality. He is clearly having fun until he encounters ten upset chickens.
One Two That's My Shoe is a special delight and highly recommended.
Young readers may recognize Georgie Dog and Grace from Apple Pie ABC
Cut and Colour Georgie Dog from Ms. Murray's website
One Two That's My Shoe! at Amazon.com
One, Two, That's My Shoe! at Amazon.ca