Anywhere but Here – written by Tanya Lloyd Kyi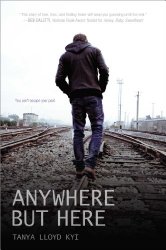 Anywhere But Here written by Tanya Lloyd Kyi
Young Adult Fiction published by Simon and Schuster
I feel compelled to share some aspects of my personal life before I write about Anywhere but Here. I was attending university and living with my folks when my mom died four days prior to surgery that had been scheduled to repair a heart valve. It was shocking and devastating and, without a doubt, the most difficult experience of my life.
Weeks later, my dad began dating. When I say 'weeks,' I mean less than three months later. While still grieving the sudden loss of my mom and feeling as though my life had been turned upside down, I was watching as my dad began a relationship with a woman he would eventually marry. Dad's second marriage was an enduring one. To be honest, I am not sure which of his marriages was longer: he celebrated twenty-fifth wedding anniversaries twice.
Anywhere but Here is the story of a young man, still in high school, who is coping with the loss of his mom. Cole finds life in a small town stifling. He is eager to finish high school and make a break from his acquaintances, friends and family. He has ended a two year relationship with a girlfriend and finds her behavior and that of some classmates confusing. His family life is in ruins. Cole's dad drinks heavily and meets an exotic dancer. Before long, she is pregnant and Cole's dad explains that she will be moving into the family home along with her young daughter.
With the encouragement of a school guidance counselor, Cole considers enrolling in a post secondary cinematography program. As part of his application, his must create a short film. It is while filming that Cole examines his community and gains perspective.
Beautifully written, Anywhere but Here accurately depicts the turmoil and confusion that occur when one parent dies and the surviving parent enters into a new relationship – especially when the surviving child(ren) are young adults. I especially liked the authenticity of Cole's voice and the relationships between Cole and his guidance counselor, his mom's former nurse and his classmates. This is a novel that begs for a sequel and I very much look forward to reading it.
Anywhere But Here at Amazon.com
Anywhere But Here at Amazon.ca