Spring Themed Picture Books Will Help Young Readers 'Blossom'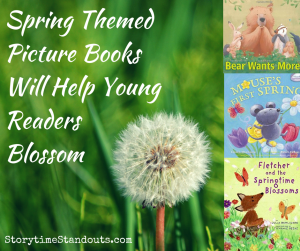 Engaging and fun, these three Spring themed picture books feature gorgeous illustrations and delightful wordplay. It is no wonder that each is part of a popular series of children's books.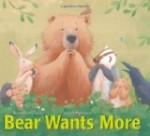 Bear Wants More written by Karma Wilson and illustrated by Jane Chapman
Spring Themed Picture Book published by Margaret K. McElderry Books, an imprint of Simon and Schuster
Fans of Bear and his forest animal friends will enjoy reading about his springtime awakening. He is hungry and thin – eager for fresh berries, clover and fish but nothing seems to satisfy his enormous appetite. Bear Wants More is a read-aloud delight and features alliteration, onomatopoeia, rhyming and repetition.
They nibble on their lunch,
with a crunch, crunch, crunch!
But the bear wants more!
Rich, vibrant illustrations make this an ideal read aloud for groups. The story will be enjoyed by children aged three years and up.
Winner, 2003 National Parenting Publications Honors Award (NAPPA)
An ABC Best Book for Children and a New York Times Bestseller
Available via Audible 
Bear Wants More (Classic Board Books) at Amazon.com
Bear Wants More at Amazon.ca
---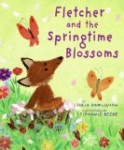 Fletcher and the Springtime Blossoms written by Julia Rawlinson and illustrated by Tiphanie Beeke
Spring Themed Picture Book published by Greenwillow Books, an Imprint of Harper Collins
Fletcher is relishing the sights and sounds of spring until he arrives in the orchard. When he sees the flakes falling amongst the fruit trees, he worries for his friends. He knows that the birds, Porcupine, Squirrel and the rabbits are ill-prepared for cold weather. He rushes to warn them. It is only when all of the friends are assembled that they realize that the 'snowflakes' are actually blossoms.
So the rabbits hoppity-roly-poly-plopped down the hill, through the woods.
They were chased by Squirrel, Porcupine,
the birds, and a bouncy, full-of-importance fox, all the way to the orchard,
where the ground was white with…
A sunny celebration of friendship and the seasons,Fletcher and the Springtime Blossoms features onomatopoeia, alliteration and repetition. Delightful illustrations will engage readers, including in group situations. Great for children aged four years and up.
Fletcher and the Springtime Blossoms at Amazon.com
Fletcher And The Springtime Blossoms at Amazon.ca
---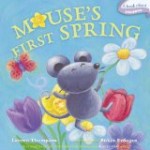 Mouse's first Spring written by Lauren Thompson and illustrated by Buket Erdogan
Spring Themed Picture Book published by Simon and Schuster
Rich with rhyming, onomatopoeia, alliteration and predictable text, Mouse's First Spring is a happy look at the sights and sounds of springtime. Young Mouse and Momma venture outdoors on a windy spring day. Together they discover a butterfly, a snail, a bird, a frog, a flower and their love for each other.
There under a leaf,
Mouse found something
slithery and slimy.
What can it be?
wondered Mouse.
Luminous illustrations highlight the wonders waiting to be discovered in the out-of-doors. An excellent choice for babies and toddlers.
Available via Kindle
Mouse's First Spring (Classic Board Books) at Amazon.com
Mouse's First Spring at Amazon.ca
---
Follow this link to our Spring and Easter theme printables for preschool and kindergarten