Three Cheers for Rick Riordan and The Lightning Thief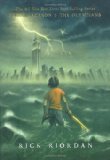 A while back, I had the pleasure of speaking to a group of about 60 enthusiastic parents. Their children attend North Delta Parent Participation Preschool and I talked to them about ways to promote phonemic awareness, alphabet recognition and reading in general. One of the things I said was that even when we do everything "right" and lay a solid foundation for reading success, sometimes children just aren't keen to read. Some children are much more enthusiastic about "doing." As I said those words, I thought about my ten year old. He loves good books, is a good reader and has heard many fine books but we almost never catch him reading. He prefers non fiction to fiction and has a shelf full of books about animals.
When I arrived home last night, the house was awfully quiet. My husband was sitting at the computer and I had to ask him where the boys were. I was stunned to discover that they were both on top of their beds engrossed in chapter books. For my eldest, this is not at all unusual but for my ten year old it was momentous. Truly, I can't recall it ever happening before.
My eldest son is rereading the Harry Potter series and enjoying every minute. He is fascinated by the small, seemingly insignificant details that are mentioned in one book, "forgotten" for awhile and then resurface two books later. I laughed when a casual acquaintance remarked on the fact that he was only reading the fifth book because I know he has devoured alll the books at least once and most of them two or three times.
But, back to the shocking events of last night. It just goes to show the importance of finding the "right" book. Our house is jammed with books but not one of them has captivated my ten year old like The Lightning Thief by Rick Riordan. It is the first book in a series about Percy Jackson & The Olympians My son started reading it at school, used holiday money to buy Book One and Book Two and now can't put it down. He tells me I will have to wait until he finishes before I can read The Lightning Thief. Trust me, I can't wait to discover the magic.
Percy Jackson and the Olympians Paperback Boxed Set (Books 1-3) at Amazon.com
The Percy Jackson and the Olympians Boxed Set at Amazon.ca