Intriguing, Horrifying and Fascinating: Fanatics by William Bell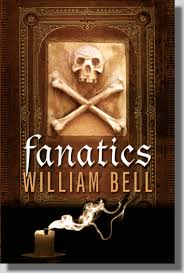 Fanatics – written by William Bell
Young Adult Fiction published by Doubleday Canada
My thirteen year old son plays rep hockey and, as a consequence, I spend a fair amount of time in the car enroute to games and frequenting ice rinks. I do my best to always have at least one book with me when his games are 'on the road.' Recently, my book of choice has been Fanatics
. At once intriguing, horrifying and fascinating, William Bell's follow up to Stones has had me engrossed. I don't normally refer to books as "creepy" but not long ago, I was reading while we were being driven to a game by my husband, I described a passage as "creepy." My not-easily-impressed thirteen year old left winger said, "Really? Let's hear it." I obliged and read the passage from Fanatics aloud. When I finished reading, no one said a word. Obviously, the book had met the "creepiness" quotient and my thirteen year old was suitably impressed. Thank you Mr. Bell.
Garnet Havelock has finished his apprenticeship and he is keen to begin work as a cabinetmaker. A chance conversation in a coffee shop leads to an offer he can't resist. He signs a contract with mysterious Valentina Stoppini: he will be allowed to set up his workshop in a coachhouse on the Corbizzi property. In exchange, he promises to repair and catalogue the mansion library. Garnet and his girlfriend, Raphaella, are soon at work in the library but they are not alone, and cannot shake the feeling that danger lurks in the ominous room."Every house has its own night noises, and the older the building the more it seems to creak and groan, like an old dog getting comfortable in his basket. The Corbizzi mansion was no different. And if you had a big enough imagination, every squeak and crack had a sinister cause – a malevolent intruder creeping slowing up the stairs, an evil spirit bent on revenge pushing open a door. What is there about the dark that awakens primitive images and drags them to the surface of your mind?"
This is a captivating story that teens will thoroughly enjoy. I rather suspect it will be best understood by my sixteen year old but feel equally confident that my thirteen year old will reach for it (when he is feeling brave) over the summer months.
Highly recommended.
Fanatics at Amazon.com
Fanatics at Amazon.ca