Kathryn Otashi's One is an Enlightened Look at Bullying. Don't Miss It!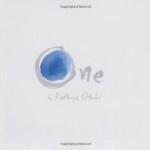 One written and illustrated by Kathryn Otashi
Anti bullying picturebook published by KO Kids Books
"Red was a hot head. He liked to pick on Blue, "Red is a great color," he'd say. "Red is hot. Blue is not." Then Blue would feel bad about being Blue."
Red is a loud, brash bully while Blue is a quiet, introspective color. When Red relentlessly picks on him, Yellow, Green, Purple and Orange witness the unkind words and are sympathetic to Blue but they fail to act. The don't tell Red to stop the abuse. When none of the colors speak up for their friend, Red is emboldened. He grows larger and larger until all of the colors are afraid of him. Thankfully, a newcomer appears, "with bold strokes and squared corners…One stood up straight like an arrow and said, "No."
Featuring bold, dramatic illustrations and a deceptively simple storyline, One
delivers a terrific anti-bullying message. A great read aloud, One offers many opportunities for discussion and the inspiring illustrations will encourage artists young and old.
One at Amazon.com
One at Amazon.ca