Old Bird Reminds Us "Old" Does Not Mean Incompetent or Worthless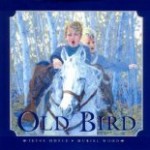 Old Bird – written by Irene Morck and illustrated by Muriel Wood
When Papa buys Bird, a gentle mare who will transport Archie and Arnfeld to and from school, he has no idea the impact the horse will have on his farm. Bird follows the children as they do their chores and insists on being allowed into the barn. Bird opens latches and asserts herself until Papa decides she must be sold. Just before the auction, Bird again has her way. This time she shows the family just how she can contribute to the farm. Old Bird
is a truly lovely story, beautifully illustrated, that reminds us old does not mean incompetent or worthless.
32 pages, ages 5 and up
Old Bird at Amazon.com
Old Bird at Amazon.ca
You may also be interested in our page titled "Diversity." We highlight picture books and chapter books that celebrate and inform us about human diversity including learning disabilities, physical disabilities, allergies, single parent families, interracial families, same sex parents, aging, death and more.
Don't miss our page of quotes about diversity.