Wordless picture books are great for encouraging language development in young children. These books usually tell a story, clearly depicting a series of events. Before attempting to tell a 'story', children should be encouraged to look through the entire book and get a sense of what is about to happen and how the story ends. Many children delight in the discovery that there are no words to 'read.' This can make for an exciting role reversal as young children have an opportunity to 'read' the pictures and 'tell' the story to an adult or another child.
Our page about Wordless and Almost Wordless Picture Books
I am happy to introduce two new special wordless picture books…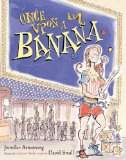 Once Upon a Banana written by Jennifer Armstrong and illustrated by David Small
Almost Wordless Picture Book published by Simon and Schuster
In this (almost) wordless picture book, hilarious events are set in motion when a small monkey tosses a banana peel onto a sidewalk. Before long it would appear that the entire town is upset – dogs break loose, a cyclist goes flying, a grocery cart is upended and, oh no, look at that baby carriage! Terrific fun.
Once Upon a Banana at Amazon.com
Once Upon a Banana at Amazon.ca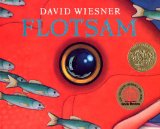 Flotsam created by David Wiesner
Wordless Picture Book published by Clarion Books, an imprint of Houghton Mifflin Harcourt
Here, we join a boy and his family as they spend a day at the beach. Clearly an enthusiastic scientist, he arrives equipped with binoculars, a magnifying glass and a microscope. As he searches for interesting 'flotsam', a huge wave crashes over him and leaves an old underwater camera just above the waterline. The boy races to a nearby shop and waits as the film is developed. When handed the photos, he can't believe what they reveal. Flotsam is truly a 'treasure chest' of visual delights.
Flotsam (Caldecott Medal Book)at Amazon.com
Flotsam at Amazon.ca
Storytime Standouts offers dozens of early literacy printables, All of the printables are in PDF format. Here is a sampling of our beach-related printables. Check the tab above for more resources.

Beach Picture Dictionary

Free printable picture dictionary for readers and writers in kindergarten and grade one.

Writing paper for kids - Sandcastle

Beach theme interlined paper for beginning writers.