Where's Walrus? by Stephen Savage Keeps Children Laughing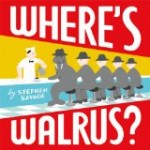 Where's Walrus? – written and illustrated by Stephen Savage
Wordless picture book published by Scholastic
Well-crafted wordless picture books are terrific for young readers. They provide opportunities for children to 'read' the illustrations and retell the story. They are also super for multilingual families – a grandparent who does not speak English can enjoy the story-sharing experience in any language.
Where's Walrus?
is a stylish, bold look at a daring escape from the city zoo. While most of the zoo animals and their keeper nap, a walrus decides it is time for fun. His first destination is just outside the zoo gates. He jumps into a large fountain and reclines next to a stone mermaid. With the keeper in hot pursuit, he shifts to a coffee shop, a store window and a construction site. Later, he helps a crew of firefighters and joins a dance team. Each time the walrus moves, he changes his head covering and manages to evade detection. Young children will enjoy "finding" the walrus while the zookeeper searches in vain. For older children, the absurdity of the premise will add to the humor.
Where's Walrus? will be an excellent addition to a classroom zoo theme. Extension activities could include choosing new a head covering and 'hiding' Walrus somewhere new.
Where's Walrus? at Amazon.com
Where's Walrus? at Amazon.ca
Our page about Wordless and Almost Wordless Picture Books