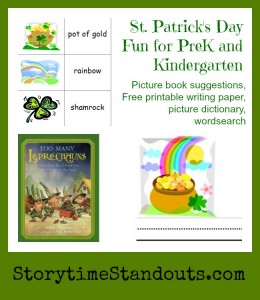 Sharing some fun Prek and Kindergarten St. Patrick's Day Learning Resources

♣ Picture Book Suggestions for St. Patrick's Day
♣ Free printable St. Patrick's Day Fingerplays for Preschool
♣ Free printable Pot of Gold Writing Paper for Beginning Writers
♣ Free printable St. Patrick's Day Picture Dictionary for Kindergarten
♣ Free printable St. Patrick's Day Wordsearch for Early Primary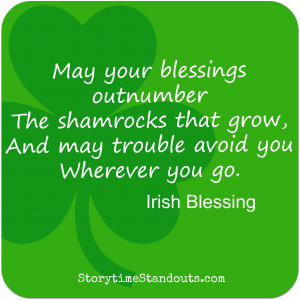 Picture Book Suggestions for St. Patrick's Day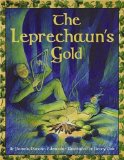 The Leprechaun's Gold written by Pamela Duncan Edwards and illustrated by Henry Cole
Picture book featuring leprechauns published by Katherine Tegen Books An Imprint of Harper Collins Publishers
Old Pat and Young Tom decide to compete for the title of 'Finest Harpist in Ireland.' They know each other well, Tom learned to play the harp from Old Pat and he is certain that his musical ability has surpassed that of his teacher.
He was much given to boasting and bragging and charging the villagers great amounts of silver for his skills. Old Pat was humble and willing to play his music for free for those who he knew had not the means to pay.'
As the teacher and protege journey from their small town toward the Royal Palace, it occurs to Tom that Old Pat could indeed win the contest so Tom decides to sabotage Old Pat's harp. Not long after, while camped for the night, the two musicians hear a cry for help. Young Tom is not willing to investigate the problem but Old Pat cannot ignore the plea. Cautiously, he walks through the dark forest to see how he can be of assistance.
In a clearing, he saw a tiny many with his foot down a rabbit hole. Old Pat's nighttime encounter with a leprechaun leads to all sorts of wonderful magic and an opportunity for Young Tom to learn.
Luminous illustrations enhance this engaging look at two characters and how, when challenged, their decisions impact outcomes. Highly recommended for youngsters aged four years and up, boys and girls will enjoy looking for the sixteen four-leaf clovers hidden throughout the book.
The Leprechaun's Gold at Amazon.com
The Leprechaun's Gold at Amazon.ca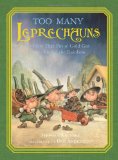 Too Many Leprechauns Or How the Pot o' Gold Got to the End of the Rainbow Written by Stephen Krensky and illustrated by Dan Andreasen
Picture book featuring leprechauns published by Simon and Schuster Kids

Finn O'Finnegan looked like a rogue and walked like a rascal, so it was widely thought that he was at least one of the other. And his shadow, which followed him closely and knew all of his secrets, might have said he was both.
Finn returns to his hometown only to discover that leprechauns have taken over! They are making shoes day and night in order to earn gold and the tap, tap, tapping is keeping everyone in the town awake. Finn comes up with a clever plan. He angers the leprechauns by finding fault with their creations until they feel they must show him their enormouse pile of gold. Once he knows where they keep their gold, Finn finds the perfect place to hide a pot o' gold and eventually restores peace to Dingle.
Delightful illustrations are done with oils and compliment a very enjoyable folklore tale.
Primary School resource – using Too Many Leprechauns to teach making predictions
Too Many Leprechauns at Amazon.com
Too Many Leprechauns st Amazon.ca
Our Free St. Patrick's Day Printables for Kids
Our free early learning printables, including our free St. Patrick's Day printables are in PDF format, if you don't already have Adobe Reader, you will need to download it to access the free printables.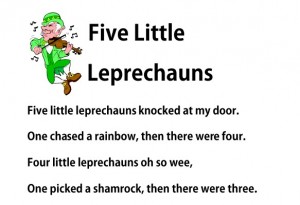 Our St. Patrick's Day Fingerplays for Preschool and Kindergarten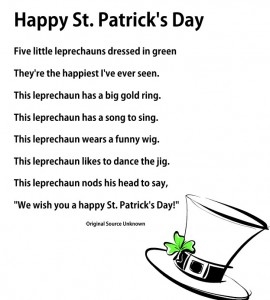 Happy St. Patrick's Day

Free printable St. Patrick's Day fingerplay for circle time or storytime.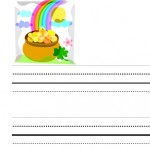 Free Printable St. Patrick's Day Writing Paper for Kids

Writing paper for kids - St. Patrick's Day Pot of Gold

St. Patrick's Day theme interlined paper for beginning writers.

St. Patrick's Day Fun Writing Paper

Free printable St. Patrick's Day theme writing paper.
Storytime Standouts offers writing paper for (almost) every occasion, check out the entire collection by visiting our
Writing Paper For Kids
page.
Free Printable St. Patrick's Day Wordsearch for Kids

St. Patrick's Day Word Search

Free printable St. Patrick's Day Word Search for children.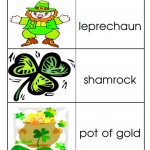 Free Printable St. Patrick's Day Picture Dictionary

St. Patrick's Day Picture Dictionary

Free printable St. Patrick's Day picture dictionary for readers and writers in kindergarten and grade one.
Some related themes to explore
Follow Storytime Standouts'Board: St. Patrick's Day Fun for Kids on Pinterest.