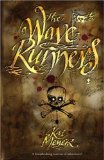 The Wave Runners by Kai Meyer
Teen fiction published by Egmont UK Ltd.
The Wave Runner is the first book in an exciting, fantasy-adventure trilogy for middle grade readers. Mr. Meyer meshes an exotic Caribbean setting, dangerous, swash-buckling pirates and intriguing fantastical creatures to create an exciting tale.
We follow the story of Jolly, a 14 year old polliwiggle (someone who can walk on water). Jolly could be the last surviving polliwiggle and is certainly a key to to defeating evil forces that threaten the Caribbean.
Be warned, the ending of this book leaves many questions unanswered and will draw readers to (Part 2) The Shell Magicians like pirates to treasure.
Pirate Curse (The Wave Walkers Book One)

The Wave Runners at Amazon.ca