Storytime Standouts looks at a wordless picture book by Suzy Lee: Wave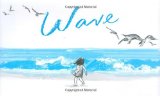 Wave – created by Suzy Lee
Wordless picture book published by Chronicle Books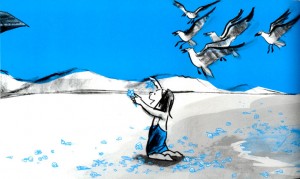 It hardly seems right to attempt to capture the infectious spirit and joy of Suzy Lee's Wave with mere words but I shall try.
When a young girl arrives at a beach, she is filled with enthusiasm and dashes forward, stopping just short of the beautiful, frothy blue water. She hesitates on the sand, pausing, leaning as she is drawn toward the ocean. Suddenly, the character of the water changes. Worried, she tentatively shifts backward, her steps mirrored by a group of friendly gulls. As the waves reverse and retreat, our young heroine stands on her tip toes and challenges the salty water. Before long, she leaps into the dancing waves, joyfully kicking and splashing until an enormous wave erupts. The powerful crest leaves her sodden but excited when it deposits a bounty of shells on the sandy beach.
Children and adults will revel in this playful, wordless celebration of a day at the beach.
Gorgeous illustrations were created with charcoal and watercolours. Suitable for all ages.
Wave was selected New York Times Best Illustrated Children's Book 2008
Wave at Amazon.com
Wave at Amazon.ca
Our page about Wordless and Almost Wordless Picture Books