A retro picture book celebration of words and design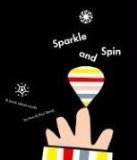 Sparkle and Spin
Written by Ann and Paul Rand
Picture book published by Chronicle Books
A picture book that was originally published in 1957, this new edition of Sparkle and Spin: A Book About Words
is a great introduction to what words are. Combining bold, bright graphic illustrations with a text that begs to be read aloud:
Some words are gay and bright and full of light like tinsel and silver and sparkle.
Sparkle and Spin highlights rhyming, onomatopoeia and homonyms. Although the striking illustrations and wordplay will be enjoyed by very young children, there is much here for older children and adults to appreciate.
About Paul Rand, graphic designer
Sparkle and Spin at Amazon.com
Sparkle and Spin at Amazon.ca