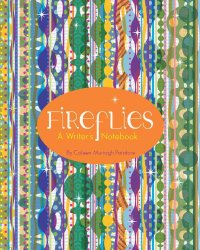 Fireflies A Writer's Notebook by Coleen Murtagh Paratore
Journal for writers published by Little Pickle Press
Ideas can surprise you like fireflies on a dark summer night, but sometimes it seems like all of the fireflies are hiding…
From beginning to end, Coleen Murtagh Paratore's Fireflies A Writer's Notebook shares a lovely message with writers: I respect you and I believe in you and your ability to write something special.
Inspiring quotes, helpful writing tips, intriguing prompts and though-provoking questions are sure to captivate young writers and encourage them to think and write with confidence. Lined and blank pages, in pastel colors offer plenty of space to brainstorm, outline, list, write, explain, recall or doodle. We especially enjoyed the quotes from (children's book authors) Jane Yolen, Karen Cushman, Jacqueline Woodson, Kate DiCamillo and Stephen King.
For a preteen or older child who loves to write, Fireflies A Writer's Notebook would be a lovely gift. It will become a treasured place to express thoughts, ideas, memories, reflections and stories.
It is interesting to note Little Pickle Press prints and distributes their materials in an environmentally-friendly manner, using recycled paper, soy inks, and green packaging.
Fireflies A Writer's Notebook at Amazon.com
Fireflies A Writer's Notebook at Amazon.ca