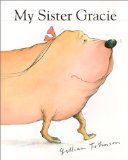 My Sister Gracie – Written and illustrated by Gillian Johnson
Picture book published by Tundra Books
Fabio, an "only" dog, longs for a brother. He dreams of exploring a park, sharing a bone and playing together with his new buddy. Imagine Fabio's surprise when his new brother is a sister – and not at all like the playful puppy he envisioned. Thankfully, teasing neighborhood dogs help Fabio appreciate and love his newly adopted sister, Gracie.
32 pages, recommended for children aged 3 to 5
My Sister Gracie at Amazon.com
You may also be interested in our page titled "Diversity." We highlight picture books and chapter books that celebrate and inform us about human diversity including learning disabilities, physical disabilities, allergies, single parent families, interracial families, same sex parents, aging, death and more.
Don't miss our page of quotes about diversity.