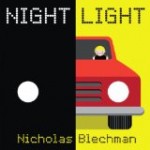 Night Light written and illustrated by Nicholas Blechman
Picture book with die cuts published by Orchard Books an imprint of Scholastic
When my sons were young, they loved picture books about vehicles. Whether reading Richard Scarry's Cars and Trucks and Things That Go or Diane Siebert and Byron Barton's Truck Song, my boys loved stories about emergency vehicles, trains, construction trucks and farm equipment. We would admire the interesting vehicles we saw while out on the road and check them out more closely when they were parked. On more than one occasion, I recall walking around big rigs – cement trucks and fire engines were especially appealing.
Night Light is a picture book my boys would have loved! Bright, colorful computer-generated illustrations include a zooming train, a hovering helicopter, a shiny taxi, a chugging tugboat, a hard-working loader and a gleaming firetruck. All have lights that shine in the dark. Youngsters will enjoy counting the lights, hearing clues and then speculating on what vehicle's lights are glowing through the die cuts. As well, they will enjoy looking at the flip side of the die cuts and how Blechman incorporates the black circles they create into the left side of each spread.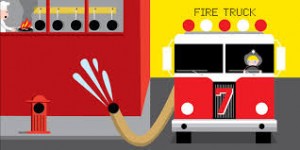 Do you know which vehicle has three lights shining late at night or what sort visits many sites?
Whether enjoyed as a counting book or as a part of a transportation theme, Night Lights is best-suited to preschool or kindergarten age children. It could also be used as inspiration for older children, prompting an exploration of art techniques that incorporate the magic of die cuts.
Some reviewers have commented about the final illustration of the book. It is printed on the end papers and, when the book jacket is in place, it is partially obscured. Similarly, at the front of the book, the book jacket covers the publishing details enhancing the look of the first pages. While perhaps not ideal, this does not detract from the appeal this story will have for transportation enthusiasts.
Night Light has been nominated for a 2013 Children's and Young Adult Bloggers' Literary Award.
Night Light at Amazon.com
Night Light at Amazon.ca