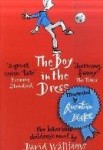 The Boy in the Dress written by David Walliams
I really didn't know quite what to expect when I picked up The Boy in the Dress. I guess you could say I was pretty much, 'ready for anything.' What I discovered was a thoughtful, poignant and humorous look at the life of a twelve year old boy who loves to play football (soccer) and whose best friend is a young Sikh. Dennis lives with his older brother and his heartbroken father. He misses his mum (mom) terribly and can't seem to come to grips with the idea that she won't be coming back to the family. Dennis enjoys sports and has many friends but he finds his day to day existence extremely 'ordinary.'
After accidentally heading a ball through a school window and into the headmaster's office, Dennis is told he must go to detention after school. When he arrives in detention, he discovers that he won't be alone. Lisa, the most beautiful girl in the school, is also in the room. Dennis finds Lisa extremely attractive. He is delighted when they become friends and he has an opportunity to walk her home after school. Lisa and Dennis discover a mutual love of fashion and Vogue magazine which leads to Dennis attempting to disguise himself as a girl and assuming a rather extraordinary identity at school.
Superbly illustrated by Quentin Blake, The Boy in the Dress is very reminiscent of Roald Dahl's wonderful books. It provides a humorous, thoughtful affirmation that, "You can be whoever you want to be."
Lexile Level – 650L
The Boy in the Dress at Amazon.com
The Boy In The Dress at Amazon.ca
You may also be interested in our page titled "Diversity." We highlight picture books and chapter books that celebrate and inform us about human diversity including learning disabilities, physical disabilities, allergies, single parent families, interracial families, same sex parents, aging, death and more.
Don't miss our page of quotes about diversity.