We can help you celebrate Pink Shirt Day in your classroom or at home
Our next few posts will include suggestions for celebrating Pink Shirt Day
Be sure to check out our page about anti-bullying picture books for children, our page about anti bullying chapter books, graphic novels and novels for children , and our Pinterest anti bullying board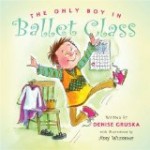 The Only Boy in Ballet Class – written by Denise Gruska and illustrated by Amy Wummer
Tucker loves to dance and especially likes ballet.
"It feels right to him. Like breathing."
His unconventional passion means that his classmates view him as weird and he is generally the last person chosen for team sports. Rather than joining other boys for football practice, he rushes to a dance class. Enroute, he endures teasing but, once he arrives at the studio, his heart swells and he feels pride in accomplishment.
At home, Tucker's mom is very supportive of his involvement in ballet,
"I don't like that you love to dance. I love that you love to dance!"
A visiting uncle is not nearly as compassionate. He thinks Tucker ought to play football.
An afternoon ballet recital is a perfect opportunity to demonstrate his love of ballet, as Tucker takes on the role of a prince during a performance. Tucker's mom and sisters are delighted with the show. Unconvinced, Uncle Frank remains committed to the merits of playing a more 'manly' sport.
While walking home from the recital with his family, a member of the neighborhood football team spots Tucker and asks, "Hey, Twinkle Toes, wanna play football?" With Uncle Frank at his side, Tucker is hard-pressed to say, 'no.' Before long he is wearing a football jersey and helmet and suddenly finds himself involved in an important play during a championship game.
"In the point of a toe, he was on the shoulders of every boy who had ever made fun of him, and they were carrying him across the field chanting, "Tuck-er! Tuck-er! Tuck-er" Even Uncle Frank was dancing."
Although adept at using his dance steps to avoid being tackled, ballet remains Tucker's joy and he is shocked but pleased when a group of football players decides to join his class.
The Only Boy in Ballet Class website
Best suited for children aged five and up.
The Only Boy in Ballet Class at Amazon.com
The Only Boy in Ballet Class at Amazon.ca

Writing paper for kids - Pink Shirt Day

Pink Shirt Day theme interlined paper for beginning writers.
Storytime Standouts offers interlined paper for (almost) every occasion, check out the entire collection by visiting our Interlined Paper page.
Additional Pink Shirt Day Resources –
Be sure to check out our page about anti-bullying picture books for children, our page about anti bullying chapter books, graphic novels and novels for children , and our Pinterest anti bullying board