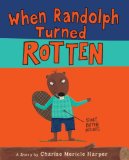 When Randolph Turned Rotten written and illustrated by Charise Mericle Harper
Picture book about dealing with emotions published by Alfred A Knopf
Ivy, who is a goose, and Randolph, who is a beaver, find their friendship put to the test when Ivy is invited to an all-girl sleepover and Randolph is not. He feels left out. Ivy's excitement about the upcoming party is too much for Randolph. Suddenly he feels sad and jealous and he decides to make Ivy feel just as horrible as he does.
Amusing illustrations and a charming storyline will help young children understand that not-so-nice feelings are a part of life and good friendships will endure.
Especially great for sharing one-on-one or with a small group, the format (which includes thought clouds and conversations) may be somewhat awkward in a large group setting.
Suggested prereading and postreading activities and questions from WITS
When Randolph Turned Rotten at Amazon.com
When Randolph Turned Rotten at Amazon.ca