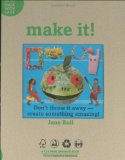 Make It! designed by Jane Bull with photography by Andy Crawford
Picture book about creating art from recycled trash published by Dorling Kindersley Limited
Nicely designed with bright, colourful photographs and an enthusiastic, conversational tone Make It! by Jane Bull challenges readers to check their garbage cans for all sorts of "found" art materials rather than buying new. Highlighting the the importance of recycling, Bull estimates that half of the contents of a typical garbage can has the potential to be recycled. She encourages readers to sort the materials into paper, plastic, metal and fabric.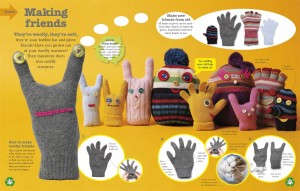 The cheerful, inspiring art projects in Make It! have been organized according to source materials. Colourful photographs show examples of ways to fold and weave paper, to make a pot from newspaper, to create 3D art and to convert junk mail into mâché bowls and jewelry.
The plastic section of Make I! shows us how to make a fun rainbow frame and also many creative ways to reuse water bottles, bubble wrap, candy wrappers and plastic lids from bottles. Metal can be recycled to make robots, rockets and aliens, mirror mobiles and moving pictures. Wool gloves and hats are transformed into stuffed creatures and fabric is woven into mats while garments become purses and soft cushions.
Readers will be on the hunt for bottle caps, stray gloves, newspapers, paper scraps, empty tin cans and too small clothing as they discover fun ways to art from recycled trash.
Great ideas for children aged six and up.
The copy we examined was hardcover and "Made with Care" using FSC certified paper. The paperback version has recently been released.
Make It at Amazon.ca
Make It! at Amazon.com