Storytime Standouts looks at a wordless picture book with an unexpected twist, The Chicken Thief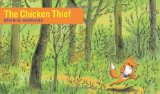 The Chicken Thief created by Beatrice Rodriguez
Wordless picture book published by Enchanted Lion Books

Bear and Rabbit are just sitting down for a meal when one of their chicken friends is scooped up by Fox. Shocked at the brazenness of Fox's thieving behavior, Bear, Rooster and Rabbit are outraged and are soon in hot pursuit.
Before long, Fox and Chicken have entered the deep, dark woods and Rabbit, Bear and Rooster are tiring. When they bed down for the night, Chicken can see her friends, in the moonlight. The following day, Chicken is remarkably relaxed, playing checkers with Fox and sleeping curled up, next to her abductor. The chase continues and as she and Fox take off in a boat, she does not look the least bit frightened. In fact, she wears sunglasses and reclines comfortably at the bow. When her three bedraggled friends finally catch up to Fox and Chicken, they are ready for a fight and surprised at what they discover.
Youngsters will thoroughly enjoy carefully examining the small details included in the ink and paint illustrations. Great fun for preschool and up.
Publisher's Weekly Best Children's Books of 2010
School Library Journal Best Children's Books of 2010
A Cooperative Children's Book Center Choice, 2011
The Chicken Thief at Amazon.com
The Chicken Thief at Amazon.ca
Our page about Wordless and Almost Wordless Picture Books