Meet Author Darla Woodley (Interview)
Storytime Standouts interviews children's book author Kelly Santana-Banks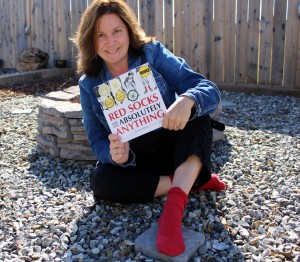 Red Socks Go With Absolutely Anything is Darla Woodley's first book. Darla is a self-proclaimed shutterbug, with her camera never far from arm's reach and a goal of capturing the many activities of her two boys, she is always on the lookout for how to capture magical moments. Many of these special moments are recorded in this book.
AuthorTwitter account @RedAnything
Instagram redsockswithanything
Facebook page www.facebook.com/RedSocksGoWithAbsolutelyAnything
Tell us about your latest published children's book. Who do you think should read it? What are you most proud of?
My book is entitled Red Socks Go With Absolutely Anything. It is a Children's Picture Book but I actually think it is a good read for all ages. Red Socks Go With Absolutely Anything is based around our family tradition of wearing red socks as an unspoken method of support and encouragement for friends, family or anyone that may just need a lift in spirit. The story sees the character going through a number of "firsts" and intimidating moments and shows the reader that sometimes words are just not needed to show that someone is thinking of you or cheering you on. The main character's gender is ambiguous on purpose so as to allow the reader to develop a more personal connection to the story.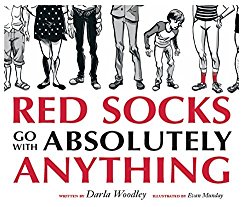 I am most proud of the impact that the story has on its readers. I love hearing how someone is heading out to purchase a pair of red socks for themselves and/or their family members. I am especially thrilled when a reader tells me that they are looking forward to initiating their own unspoken method of support and tradition based around the idea of red socks.
Red Socks Go With Absolutely Anything at Amazon.com
Red Socks Go With Absolutely Anything at Amazon.ca
Was it difficult for you to get your first book published? What suggestions/words of encouragement do you have for aspiring authors/illustrators?
I am not sure if I would say it was difficult to publish my first book. Challenging? Yes, definitely challenging. I chose the self-published route and being new to the book industry I found myself constantly on the computer or my phone doing research. I cannot tell you how many links I emailed myself to read and check on and how many tabs were open on my desktop at once on a regular basis. I was extremely fortunate to have a few connections that I could contact, bounce questions off of and verify information that I had found through research. The entire process can be a rather lengthy one when opting the self-published route as there are many services, options and research that should be done to ensure that you end up with an end product suitable to your standards.
To aspiring authors/illustrators I would suggest that they do their research regarding the publishing process and what it takes to ensure that you end up with a polished and very professional book. I would also explain how it is a never-ending process of promotion and self-promotion. For a new author it is a constant challenge to get your name out there in the literary world.
Tell us about your experiences sharing your book with children. Has anything unusual / endearing / funny / unexpected happened?
I have such great memories and experiences of sharing Red Socks with children. They are such a wonderful and inspiring group to share the story with!
I have shared the story with children in grades 1 through to grade 6 and was very pleasantly surprised at the comments and discussions with the grade 6 individuals. I wasn't sure if they were going to be too "big" for the story but they were an awesome group of kids with insightful questions and comments. With that particular group I have great memories:
– I had a couple of girls approach me and tell me about a book they are writing together and how they were inspired to keep their project going and not give up.
– One child came up and told me how great he thought the story was and then secretly handed me a piece of his favorite gum by way of a handshake. He then gave me a wink to confirm the passing of the forbidden gum. (we were all sitting in the library)
– Another child was so inspired by the story that he suggested that they have a wall in the school dedicated to Red Socks displaying the book's lines "I feel strong. I am ready. I can do anything." I am so proud of him as he later inspired so many others at a local track competition with his determination to run and finish in a relay match.
I always have fond memories of visiting and reading with the younger grades. I experienced my first "heckler" when I was reading to a grade 2 class and she was in the front row asking me why the socks were not blue. I love the little discussions (that sometimes turn into battles) when I ask the class if they think the protagonist is a boy or a girl. I enjoy the fact that we get off course during the reading as our discussions take a different direction at times when they all want to share their version of the character's experience.
How do you stay connected with your readers? Have you gone on book tours? Do you engage on social media or through a website? Do you visit classrooms, libraries or bookstores?
I use social media (Facebook, Twitter, Instagram and a website) in an effort to stay connected with readers and those who might be interested in learning more about Red Socks. I have done a few book signings and look forward to doing more. (The book signings are something that I need to push myself to do as I am usually very much a "behind-the-scenes" type of person.) I do thoroughly enjoy visiting classrooms and look forward to those in the coming school year.
What are the joys of being an author / illustrator? What do you derive your greatest pleasure from?
I am a first time author so it is so very thrilling to see the book displayed in a bookstore or to hear from someone else that they spotted Red Socks in a bookstore. My greatest pleasure is having someone tell me that they enjoyed the story and are looking forward to initiating their own tradition based on the idea of Red Socks. I have it set up so that when books are purchased an additional copy is printed and then donated to a local school, charity and/or organization that can benefit from the message within the story. I am so happy to say that books have been sent to Australia, Maui, England, Northern Ireland, Toronto, various States, Saskatchewan, BC and throughout Alberta so far.
What are the biggest challenges of being an author / illustrator?
Being a first time author and one that is self-published, the biggest challenge is actually getting the word out about the story. The entire experience is new to me and full of challenges and unknowns and I find myself constantly having to do research regarding the industry and push myself out of my comfort level at times in an effort to bring Red Socks to new readers. I am thankful though as this challenge offers me an opportunity to be an example to my two boys of how one should never give up and always be willing to put themselves out there.