Don't stop the readin'…hold on to that read aloud feeling. Sing Along!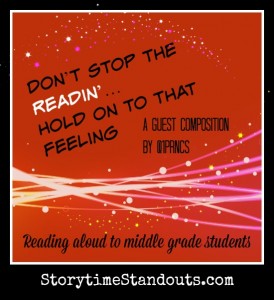 Some days I'm more "quirky" than others. This is one of those days. Instead of just telling you that your middle-grade children (grades 4, 5, 6, 7) are not too old for you to keep up that nightly ritual of reading, I've made some alterations to a classic Journey song. You can laugh or roll your eyes, but the message will be the same. They're getting older, but it doesn't lessen their enthusiasm for books. Nor does it mean they don't need us there to help them navigate some of the issues that their favourite characters are facing. Bottom line? Take fifteen minutes at the end of the night, curl up on someone's bed, and keep reading.
Don't Stop the Readin' (adapted from Journey's Don't stop believin'– hardcore Journey fans…I'm sorry 🙂 (ps: it helps if you listen to the song in the background softly so you can read with the beat)
Just a grade five  girl
Readin' bout' a wizard  world
She read the whole series
Loved the characters
Just a grade six boy
Thinks he doesn't like to read
He found The Outsiders
Thinks he's Ponyboy
His father comes into the room
The moon is out the day is done
For a while they can read tonight
It goes on and on and on and on
Parents reading
Learnin' bout the Hunger Games,
Heroes like Percy
Annabeth
Quests and danger
Find out what your kids are lovin'
Read with them every night
Workin' hard to pay the bills
One on one time is such a thrill
Read a story, talk about your day
It's worth the time
Picture Book
Non-Fiction
Doesn't matter what you read
Graphic novels, Patterson
The list can go on and on and on
They aren't too old
Even in the middle grades
Let them read to you
Read to them
Make it matter
A great way to stay connected
Just fifteen minutes a night
Don't stop the readin'
Hold on to that feelin'
With your children
Don't stop the readin'
Nielsen,
Sachar, Judy Blume
They keep you readin'
Keep on reading!
Don't Stop Believin' at Amazon.com
Don't Stop Believin': the Best of Journey at Amazon.ca