The Very Inappropriate Word – Synonym Picture Book Fun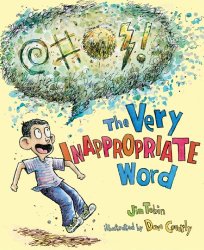 The Very Inappropriate Word written by Jim Tobin and illustrated by Dave Coverly
Picture book about synonyms published by Henry Holt and Co.
In this all ages picture book, we learn about synonyms, how to expand our vocabulary, and the power that words have. The first line drew me in immediately: "Michael collected words". I love words and we all have words we hate and love for whatever reason. The way it sounds on our tongue, for what it means, for what it rhymes with, etc. Words are fun and I think it is a great concept to introduce kids to the idea that there are so many ways to say the exact same thing.
Michael pays close attention to all the words that come at him every day– at school, at home, on television, and at baseball. The illustrations of the words that pop up in Michael's day are entertaining in their presentation. For example, Michael likes "hard words for soft things" and the word "elastic" is stretched as though inside of an elastic instead of a speech bubble. My students and my own children enjoyed looking over the pictures repeatedly.
Michael likes to use the words he finds but when he hears a bad word on the school bus, his friends tell him that is not an appropriate word. The more he is told not to use the word, the deeper his desire to use it, until he finally yells it out at the top of his lungs. In class. Michael's teacher asks him to stay after school and he is sure that he is in trouble.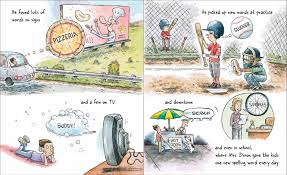 What happens next is unique and I truly enjoyed the lesson that the teacher wanted to impart in the book. Instead of detention or a long lecture, she asks him to find new spelling words. In essence, she lets him see how many words exist that are powerful and fun, while also being appropriate. She gives him a responsibility to help her and that trust, along with the wonderful task of exploring new words, diminishes the power of the inappropriate word.
Sometimes our actions are strengthened by the reactions of others. Michael's teacher didn't give him the reaction he expected. Instead, she showed him a different path and let him find his way. What we say is important but so is how we say it. I like that this book shows kids there are other ways, other words, to communicate what they are trying to say.
On another note, there are a number of fun activities that you can do with this book. In my classroom, I used the example on the first page where we see a picture of Michael, surrounded by "M" words. The students drew a self-portrait and tried to find as many descriptive words about themselves that started with the first letter of their name as they could. Not an easy task but upper intermediates will enjoy the challenge while they learn some dictionary and thesaurus skills. A second activity I tried was to give a word and see who could come up with the most synonyms. So, if I put "happy" on the board, they all had thirty seconds to write down as many words as they could that meant the same thing. This is a great way to do a quick check of their vocabulary understanding. Even if you just use the book as a fun read, the students will get lots out of it.
The Very Inappropriate Word at Amazon.com
The Very Inappropriate Word at Amazon.ca