Meet Children's Book Author Aldo Fynn

Aldo Fynn enjoys writing wacky, fantastical stories. Prince Iggy and the Kingdom of Naysayer is his debut novel. It's the first book in the Adventures of Prince Iggy Series. He's also written two wacky, laugh-out-loud picture books. He lives under his desk and promises he won't come out until Book 3 in the series is complete. Which is a shame because his desk is based in Los Angeles, where it's sunny and 70 degrees most of the year.
Twitter account – @AldoFynn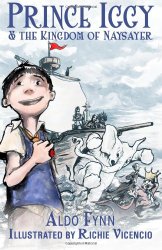 Tell us about your latest published children's book. Who do you think should read it? What are you most proud of?
Prince Iggy and the Kingdom of Naysayer is an over the top-fantasy adventure where a lost-now-found prince learns that believing in himself pays off when battling evil bullies. It's a quirky and fast paced story with 30+ black and white illustrations ideal for middle grade readers (ages 8+) and adults looking for a different kind of hero.
Prince Iggy and the Kingdom of Naysayer (The Adventures of Prince Iggy) at Amazon.com
Prince Iggy and the Kingdom of Naysayer (The Adventures of Prince Iggy) at Amazon.ca
Thinking back to your own childhood, is there a particular author or illustrator who was a favourite? Why do you suppose that person's work resonated with you?
Mark Twain. Because he's one of literature's greatest humorist.
What are the biggest challenges of being an author / illustrator?
Staying focused and finishing the work.
Have any of your books been published electronically? If so, what was that process like? What sort of feedback have you had from readers?
All my books have actually been published electronically first. Since I've partnered with a small-indie press, we decided that going digital first would enable the books to get to readers more quickly. BOA Press has internal resources to produce the digital format whereas as print production required working with third parties. The feedback I have received on the e-book format and illustrations has been very positive. Some of my readers still rely on print so we planned for that once digital was completed. There is something special about holding a book in your hands with your name on the cover.
If you could dine with any author/illustrator (alive or dead), who would you choose and why?
Again Mark Twain because his life was as colorful as his books.
Does music play a part in your writing/illustrating? If so, what sort of music do you connect with your work?
Music is a big part of my life. I listen to music everyday before and after I start a writing session. I listen to everything from classical to electronica to jazz.