Learning About Chinese New Year – Highlighting Picture Books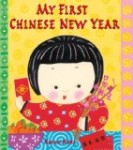 My First Chinese New Year written and illustrated by Karen Katz
Chinese New Year Picture Book published by Henry Holt and Company
An excellent introduction to the traditions associated with the holiday, My First Chinese New Year will be enjoyed by children aged three years and up. Highlighting traditional decorations, clothing, food, a large family dinner and a boisterous parade, colorful illustrations and text depict a family's preparations for the special day and their joy in celebrating with family and friends.
We appreciate the ease with which Ms. Katz conveys information to young readers,
My sister and I sweep away the bad luck from last year. Now we are ready to welcome in good luck for the new year.
Recommended for preschool age children, the size and format is well suited to a group storytime.
My First Chinese New Year at Amazon.com
My First Chinese New Year at Amazon.ca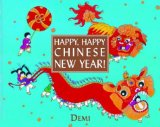 Happy, Happy Chinese New Year written and illustrated by Demi
(Non Fiction) Chinese New Year Picture Book published by Crown Publishing, an imprint of Random House
Unlike Ms. Katz's picture book, Happy, Happy Chinese New Year will be best appreciated when read by one or two children. It could be used by a child doing research into the traditions associated with Chinese New Year. Detailed illustrations include numerous small, labelled figures preparing for a community celebration. A tremendous banquet is shown and is enhanced by a key that provides the name of each food item, in English and Chinese, as well as the significance of each of the dishes.
Part of getting ready for the Chinese New Year is making sure your home is neat and clean before the new year arrives. Tidy up your house and your room. Sweep out the old and bring in the New Year!
A good non fiction resource for primary grade children, this picture book offers considerable insight into the traditions associated with this holiday.
Happy, Happy Chinese New Year! at Amazon.com
Happy, Happy Chinese New Year! at Amazon.ca
Demi was a nominee for the 2013 NSK Neustadt Prize