10 Great Reasons to Read Stories Aloud to Your Child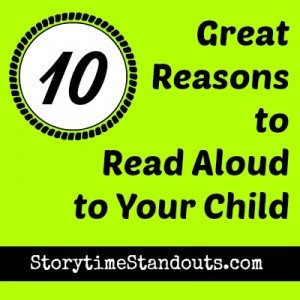 Storytime Standouts shares ten great reasons to read stories aloud to your child
<5>Reading aloud to my sons has been one of the highlights of being a parent. My boys are both teens now and have pretty much outgrown picture books (Christmas Eve is always an exception) but shared memories of trips to the library and hundreds of great bedtime stories read aloud will remain with us forever. Having said that, reading a couple of bedtime stories aloud, every night for seven or eight years is hard work. There were definitely nights where I would have happily 'skipped' and had a little more time to myself. I clearly remember, on more than one occasion, my younger son being wide awake at his bedtime while I was falling asleep as I attempted to read aloud to him. He would say, "Mommy, your voice sounds really strange." I would rouse myself enough to finish the story and then head off to my own bed.
Let's take a look at ten great reasons to read aloud to your child(ren)
When we read aloud to children, they (1) get to know books. They learn that books have front covers and back covers. The covers can be hard or soft/flexible. Books have spines and sometimes they wear jackets.
Sharing stories with children also helps them learn (2) how to hold and manipulate a book. When we read aloud to children, they discover how a book "works." They come to understand that a book written in English is read from front to back and that we (gently) turn the pages as the story unfolds. They discover that, if we want, we can go back and reread a page, we can also skip a page.
Occasionally running a finger along the printed text will also help children learn that (3) pages are read from top to bottom and the text is read from left to right. With a little help from us, children will discover that bold words are often important to the story and usually we think of bold words or words shown in uppercase letters as LOUD WORDS.
If we read lift the flap books or pop up books, children will learn that (4) sometimes books have flaps or other features that hide the solution to a riddle or some other surprise.
Reading aloud also exposes children to the (5) beauty and richness of our language. Children will also gain (6)phonemic awareness as they discover how to play with words and sounds through rhyming and alliteration.
When hearing books read aloud, children (and adults) learn (7) new words and all sorts of wonderful (8) facts (especially when the children are wild about dinosaurs!)
Hearing a selection of books gives children an understanding of (9) what a story is , how a fairy tale is different from a fable and how tall tales exaggerate.
Hearing picture books read aloud can also enable children to (10) safely explore worrisome or difficult topics like going to the hospital or coping with illness, disability, bullying, or even the death of a loved one while safe in a loving and comfortable environment.