The Painted Chest – Share this picture book for older children and let it speak to your heart
Adults and young readers will enjoy this thought-provoking fable, The Painted Chest, a picture book for older children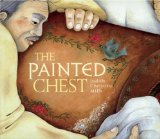 The Painted Chest written and illustrated by Judith Christine Mills
Picture book about the value of music and art published by Key Porter Books
The Painted Chest is a lovely fable that has an important message for both children and adults… In this picture book for older children, stars twinkle above and wildflowers bloom in the fields but life in Maddie's village is barren and grey. A distant memory of famine casts a worrying shadow. The villagers toil day after day, focussed only on growing food.
One day, while clearing rocks from the fields, the villagers unearth a large object caked in mud.
The long-lost painted wooden chest has an important message for the townsfolk:
Days will all be long and cold, If you nourish body but not soul.
Once opened, the musical instruments and dancing shoes from the painted chest bring renewed joy to the small community.
Share this lovely, thought provoking story with a child and let it speak to your heart.
The Painted Chest at Amazon.com
The Painted Chest at Amazon.ca