Jeffrey and Sloth – Why not try doodling your way to a fun tale?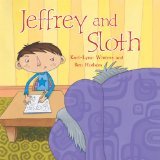 Jeffrey and Sloth written by Kari-Lynn Winters and illustrated by Ben Hodson
Picture book about writing and drawing published by Orca Book Publishers
Staring at a blank sheet of paper (or computer screen) can be awfully daunting when you can't find anything to write about (or blog about). For Jeffrey, the solution is to draw a shining sun, snow-capped mountains, space aliens and a round-bellied, long-armed sloth. Jeffrey's sloth suggests that Jeffrey should make himself useful and sketch a chair. Before long, Jeffrey discovers that his drawing and words are magical – with them, he sends his creation digging, swimming, climbing and trekking.
A fun picture book – especially for a young writer seeking inspiration. Why not try doodling your way to your next tale?
Lesson plan for Jeffrey and Sloth (in PDF format) based on six traits of writing.
Jeffrey and Sloth at Amazon.com
Jeffrey and Sloth at Amazon.ca