Making Motherhood Fun… Mommy Really Can Be Amazing!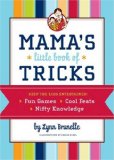 Mama's Book of Tricks by Lynn Brunelle
Motherhood book published by Chronicle Books
When my two boys were very young, I often told them that I was amazing! I always said it in a laughing way. I was not trying to be arrogant but rather thought that sooner or later they would both decide I was an idiot so perhaps if I referred to myself as 'amazing' I could delay the almost inevitable 'my mom is an idiot' phase for a month or two.
Actually, so far, my strategy has worked quite well. Now, I rarely have to remind my family that I'm amazing. Instead, when I find something that was assumed lost or if I manage to do something notable, it is not at all unusual to have one of the boys or my husband refer to me as, Mommy Amazing. Not bad, eh? My devious plan appears to be working.
Imagine my surprise last night when I discovered, Mama's Little Book of Tricks by Lynn Brunelle. She's put together, 'fun games, cool feats, & nifty knowledge' to 'keep the kids entertained' and make motherhood fun.
The publisher thinks it will work for kids ages 2-7 but I'm pretty sure there is more than one idea that will impress preteens.
At midnight last night, much to my husband's chagrin, I was quoting the Nine Cool Bug Facts and contemplating the Four Impossible Kid Challenges. This book is great fun and might just lengthen my 'Mommy Amazing' status for awhile longer. Who could ask for more than that?
Lynn Brunelle's Website: Tabletop Science
Mama's Little Book of Tricks at Amazon.com
Mama's Little Book of Tricks at Amazon.ca