6 ways for a beginning reader to read an unfamiliar word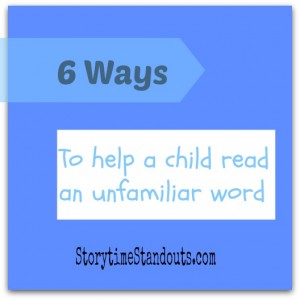 When your beginning reader is faced with a new word to read, here are six ways she can approach it. Encourage a beginning reader to practise each of these methods and gain confidence and fluency
Sound it out.
Have the beginning reader say each letter sound and "mush" the letter sounds together until they make a word.
/c/ — /a/ — /t/
/c/ – /a/ – /t/
/c/ /a/ /t/
Use the first letters as hints and then guess.
The farmer drove the /t/. Your child might guess 'truck' or 'tractor' – either of these words will probably fit within the context of the story. If your child guesses 'tiger' or 'trampoline,' we would want to ask if the word really makes sense.
Look at the pictures for clues.
This approach might mean a child substitutes "kitten" for "cat" or "bike" for "bicycle." A mistake like this does not change the meaning significantly. The word the child 'reads' still works within the context of the story.
Read the sentence again.
Sometimes backing up will help a child gain momentum and get over the hurdles.
Skip the mystery word and continue reading.
Once your child has read further, the mystery word may become obvious
Ask someone for help.
Usually when a young reader asks me for help, I simply provide the word. I really do not want to ruin a great story for the sake of one or two words.
If you are a parent who is working with a beginning reader, it may be tempting to correct every mistake he or she makes. However, especially with a beginning reader, as parents, we need to be cautious about our demands. We need to take a non judgemental, supportive approach and avoid having our child embarrassed by his or her mistakes. Our role is to be cheerleaders. Our job is to applaud and encourage success and to provide assistance when needed. In fact, one might say that our job is to be like a family pet. We should sit happily with the child and wag our tails from time to time. If we can resist correcting our child, our child will reap the benefits provided by Reading Education Assistance Dogs.