Add this Treasure to Your Collection: Hannah's Collections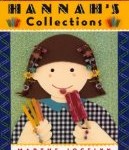 Hannah's Collections – written and illustrated by Marthe Jocelyn
Problem solving picture book published by Tundra Books
When Hannah's teacher invites her students to bring a collection to school, Hannah finds it difficult to choose just one of her collections.
"Hannah loved to collect things. She found new treasures wherever she went."
Striking collage illustrations take us to Hannah's bedroom where we discover her captivating collections of stamps from around the world, sea shells, leaves, small figures, foreign coins, leftover keys and more. Soon we are admiring the 153 buttons she has grouped together by size, shape and color. Next we see the popsicle sticks she has arranged in patterns and her diverse collection of figures, standing in a line from tall to small. Hannah's Collections
will have strong appeal for any child who enjoys collecting and will most certainly encourage young children to count, compare, match and group their own treasures. Hannah's solution to the challenge of choosing one collection to share is a fine demonstration of problem solving.
Great for classroom use, Hannah's Collections will provide many opportunities for children to consider how items are alike and different and the many different ways we can sort a group. It could also be used to elicit a discussion about problem solving.
Hannah's Collections at Amazon.com
Hannah's Collections at Amazon.ca