The Deep Cold River Story Asks How to Get a Flooding River to its Bed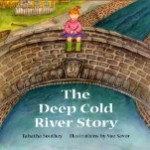 The Deep Cold River Story written by Tabatha Southey and illustrated by Sue Savor
Picture book about a flood and problem solving


Imagine a deep, cold river running through a small community. One day, for no apparent reason, the river overflows its banks and floods the entire town. Many possible solutions to the unrelenting flooding are proposed but it takes a little girl to solve the problem and save the town.
The Deep Cold River Story
features a positive message about bedtime stories and offers a great opportunity for children to propose their own creative solutions to the flooding problem.
A charming story featuring a young heroine and appealing illustrations, The Deep Cold River Story
is 28 pages and will be enjoyed by children aged 3 to 6.
Tabatha Southey's Commentary – The Globe and Mail
The Deep Cold River Story at Amazon.com
The Deep Cold River Story at Amazon.ca