Willow Finds a Way, a picture book about dealing with a classroom bully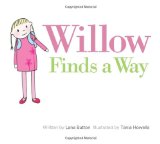 Willow Finds a Way written by Lana Button and illustrated by Tania Howells
Anti-bullying Picture Book published by Kids Can Press
We originally met Willow in Willow's Whispers. She is a soft spoken young girl and, in her first picture book, she finds a way to make herself heard.
In Willow Finds a Way she is facing a different challenge. Willow and her classmates are excited when Kristabelle invites them to her birthday party but the invitation has 'strings attached.'
At snack time, Kristabelle waved the birthday list in the air and said, "If you want to stay on my birthday list, come sit at my table!"
Initially, complying with Kristabelle's demands seems okay but before long Kristabelle is dictating outdoor play and who gets to stand at the front of the line. Eventually one of the party invitees dares to contradict Kristabelle. His name is crossed off the list of party guests. Willow thinks about standing up for her friend but she can't quite bring herself to say the words. Before long she is worrying that her name will be crossed off the list too.
It is clear that Kristabelle's threats and controlling behavior are a problem for Willow. She knows that Kristabells is treating her classmates badly. Eventually Willow finds a way to make her opinion known. She is no longer a bystander – she has taken a stand. When Willow's classmates decide to take the same approach, Kristabelle rethinks her position.
Ms. Button's depictions of Kristabelle, Willow and their classmates are pitch-perfect. We know children like these – those who make friendship conditional and who threaten exclusion (both forms of 'relational bullying') and those who know what is right but have difficulty speaking up. Simple, colorful illustrations are an excellent match for the text and feature a racially diverse classroom.
An excellent discussion-starter for preschool and kindergarten classrooms, highly recommended for children aged four and up.
Willow Finds a Way at Amazon.com
Willow Finds a Way at Amazon.ca
Read our review of Willow's Whispers
Awards
2013 – Best Books for Kids and Teens, Canadian Children's Book Centre
2012 – Publisher's Weekly's Selected Listing for Bullying Resources