Chick-O-Saurus Rex Shines in Anti-bullying Picture Book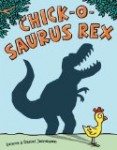 Chick-O-Saurus Rex written by Lenore Appelhans and illustrated by Daniel Jennewein
Anti bullying picture book published by Simon and Schuster
Donkey, Pig and Sheep have formed an elite group and, to the disappointment of the smaller farm animals, they exclude all others from the tree house.
"This is a club for the brave and mighty. First you have to prove you belong."
Little Chick does his best to gain entrance to the tree house but the bullies refuse to allow him inside. Little Chick asks his father for advice. He learns that his relatives "invented the chicken-dance craze and even… crossed the road." Being seen as brave and mighty appears hopeless until Little Chick notices a picture of Grandpa Rooster studying a fossil. He is keen to leave the farmyard in search of evidence of his heritage.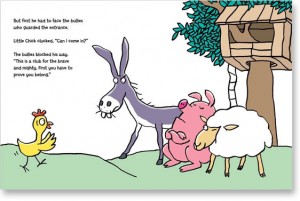 Before long, Little Chick is shocked to discover that Tyrannosaurus Rex is his distant relative and he rushes to share the news with the bullies. When he arrives at the clubhouse, he discovers a wolf is attacking Little Donkey, Little Sheep and Little Pig. Little Chick is quick to dispatch the wolf and, shortly thereafter, all of the farm animals are allowed to climb the ladder and enjoy the treehouse.
An author's note explains that the chicken is the Tyrannosaurus' closest living relative and explains how the determination was made by scientists.
Chick-O-Saurus Rex could be used to prompt a discussion about excluding children in social situations and other forms of bullying, it will be enjoyed by children aged four and up.
Chick-o-Saurus Rex at Amazon.com
Chick-o-Saurus Rex at Amazon.ca