Two Dumb Ducks Silence Their Bullies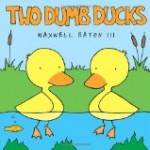 Two Dumb Ducks Written and illustrated by Maxwell Eaton III
Picturebook about teasing and name calling published by Alfred A. Knopf
Steve and Carl are contented ducks. Steve is happy to build castles with empty tin cans. Carl amuses himself playing with socks. Steve and Carl are not stupid and they do not like being called names. When some seagulls insist upon calling them, "Two dumb ducks," they ask themselves, "Why?" and they suppose it could be "Jealousy" or "Troubles at home." The ducks ask the seagulls to stop and, when that doesn't work, they try to appear smarter.
The nasty name calling continues and eventually Steve and Carl decide to get even with the gulls. An ill-advised plan has unexpected consequences and, as a result, is spectacularly successful. Steve and Carl achieve their goal: the seagulls are silenced and the two friends are free to enjoy building with cans and playing with socks.
Pencil illustrations have been coloured digitally in this cartoon-like picture book. Best suited to preschool age children, Two Dumb Ducks could be used to explore teasing, name calling and bullying themes.
Two Dumb Ducks at Amazon.com
Two Dumb Ducks at Amazon.ca