Kindergarten Springtime Fun – Writing prompts, printables and more
Celebrate warmer days with some kindergarten springtime fun
Here are some ideas to help you celebrate the first days of spring…
Choose a "spring" word and see how many words you can spell with the letters –
For example: daffodils fad, fads, oil, soil, foil, Dad, lid, lids, slid
Make a Venn diagram and compare Spring with Fall – what do you see in Spring but not in Fall? What do you see in both Spring and Fall?
See how many Spring compound words you can discover? Here are some to get you started – buttercup, butterfly, ladybug, raindrop, raincoat, rainbow, sunshine
Try one of these story starters –
The first sign of spring…. Planting a magic seed…. My friend's amazing umbrella… Five new baby chicks… When I looked up at the clouds… Jumping in puddles on my way home… Yesterday we saw a rainbow…
Make a colourful poster and advertise Spring. Use words and pictures to explain what is special about spring.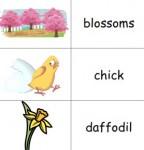 Don't forget to download some of our Spring resources:

Spring Picture Dictionary

Free printable Spring picture dictionary for readers and writers in kindergarten and grade one.

Springtime Fingerplay and Song



Writing paper for kids- Spring

Spring theme interlined paper for beginning writers.
Our early literacy printables, including our kindergarten springtime printables are in PDF format, if you don't already use Adobe Reader, you will need to use it to access the downloads.


Please note: some of our early literacy printables are available to Storytime Standouts members only. To become a member of the website (without cost or obligation), please click on the "Members" tab and register as a user.
You will find our selection of free printable alphabets here and all of our early literacy printables here.