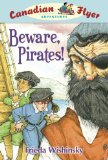 The exciting Canadian Flyer Adventures time travel series for grade two has all the elements needed for success – action, adventure and fun. Generously illustrated, readers will be captivated while learning history
Canadian Flyer Adventures series written by Frieda Wishinsky and illustrated by Dean Griffiths
Time Travel Series published by Owlkids Books
When young friends Emily and Matt climb a rickety spiral staircase, they discover an intriguing room filled with wonderful treasures. They are excited to imagine where and when each originated. When they sit on an old red Canadian Flyer sled, their time travel adventures begin.
In Book One of the Canadian Flyer Adventure series, they are transported to the Far North circa 1577. They find themselves aboard Martin Frobisher's pirate ship and later help to rescue an Inuit man.
In Book Two, they face dangers during the time of dinosaurs.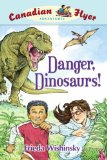 I read and enjoyed both books. Likely intended for children who are reading at about a grade two to three level, the series is generously illustrated and quite exciting. Extra features include additional facts, an interview with the author and a preview of the next book in the series for grade two. It is great to see a series like this. The Canadian Flyer Adventure series will be enjoyed by young readers everywhere but will have a special appeal for Canadian children and those who gravitate toward history or time travel.
OwlKids Books' Canadian Flyer Adventures website includes teacher resources and a map
Beware, Pirates! at Amazon.com
Danger, Dinosaurs! at Amazon.com
Beware, Pirates! at Amazon.ca
Danger, Dinosaurs! at Amazon.ca