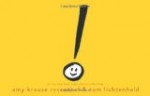 Exclamation Mark written by Amy Krouse Rosenthal and illustrated by Tom Lichtenheld
Outstanding 2013 Picture Book published by Scholastic Press
Exclamation Mark is just not like anyone else. As much as he'd like to look the same, he's always a standout in a crowd.
He was confused, flummoxed, and deflated.
He even thought about running away..
Clever wordplay and fun, expressive illustrations will captivate children old enough to understand punctuation and the important role it plays in our language. Older readers will enjoy the double entendre and will celebrate Exclamation Mark's voyage of self discovery.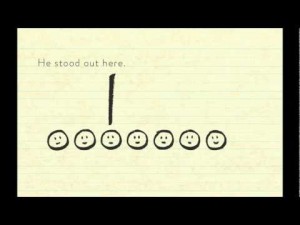 Why oh why is he different? He wants nothing more than to look just like the periods around him. It is only when Question Mark arrives on the scene that Exclamation Mark discovers something deep within – he discovers why and how he has an important role to play – despite his rather unique upright appearance.
An outstanding 2013 picture book, Exclamation Mark is highly recommended for readers aged five years and up.
Exclamation Mark at Amazon.com
Exclamation Mark at Amazon.ca
Link to Make Your [Book]mark on Tom Lichtenheld's website
Parent's Choice Silver Honor Spring 2013
Kirkus Starred Review
Booklist Starred Review
Exclamation Mark has been nominated for a 2013 Children's and Young Adult Bloggers' Literary Award.