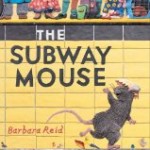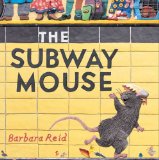 The Subway Mouse -written and illustrated by Barbara Reid
Barbara Reid is an award winning author/illustrator who is well known for her amazing Plasticine illustrations. In 2004 she received the Ruth and Sylvia Schwartz award for The Subway Mouse.
This is an endearing tale of love and adventure.
Nib is a young mouse who lives in a busy subway station. At nighttime, when the station is quiet, Nib loves to listen to stories about Tunnel's End. "Tunnel's End was also beautiful. The air was sweet. A brave mouse could find the tastiest foods, the softest nests." One day, after having his nest destroyed by his cousins and tired of living in the noise and dust of the station, Nib sets off on the adventure of a lifetime. Before long, he meets Lola and soon the two friends are on a quest for fresh air, clear skies and freedom. The journey to Tunnel's End is not without danger; gangs of mice resent the young intruders and there is a considerable distance to travel. Breath-taking Plasticine illustrations include many found objects and make this a book that is sure to inspire young artists. Highly recommended for young readers aged four to nine years – especially those who will be riding on a subway train sometime soon.
Link to a Subway Mouse lesson plan from Scholastic
The Subway Mouse at Amazon.com
The Subway Mouse at Amazon.ca